Sacramento Window Signs & Graphics
VIEW GALLERY
Are you running a retail store, office building, or providing professional services? If so, you know the importance of creating a solid first impression and making your business stand out. Your business's front windows offer an excellent opportunity to capture the attention of potential customers and convey essential information about who you are and what you have to offer.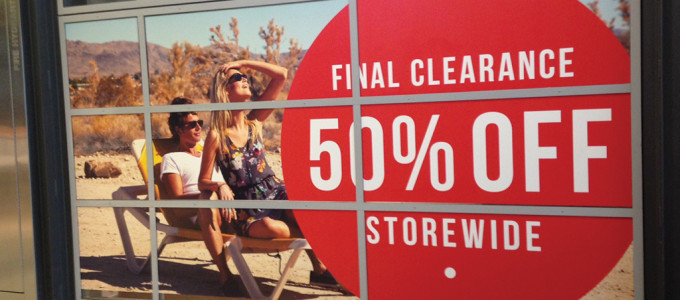 Whether you're promoting unique services or showcasing your latest products, want to provide more privacy for patrons inside, or wish to educate potential customers about your brand and offerings, high-quality vinyl graphics and window signs can be a powerful and versatile solution to achieve your goals. They allow you to transform your storefront into an engaging and informative display that entices people to step inside and explore further.
At Universal Signs, we understand the significance of impactful window signage for businesses. As a local provider of vinyl window graphics solutions, we specialize in creating eye-catching and attractive window displays, graphics, and clings that get your Sacramento business and brand noticed. Our dedicated designers and sign experts work closely with you to bring your vision to life, crafting custom window signs that align with your branding and message.
From elegant storefront lettering that communicates your business name and logo to vibrant window decals promoting special offers or seasonal promotions, our window signage solutions are designed to make a lasting impression. We use high-quality materials to ensure durability and longevity, even in various weather conditions.
We aim to help you maximize your storefront's potential as a marketing tool, attracting more foot traffic and increasing your business's visibility within the community. With our expertly crafted window signs, you can effectively communicate your value proposition and entice passersby to become loyal customers.
When you choose Universal Signs as your vinyl window graphics partner, you benefit from our years of experience and dedication to customer satisfaction. We take the time to understand your specific needs and objectives, providing personalized solutions that resonate with your target audience.
Let your front windows become a canvas for creativity and a powerful means of communication. Contact us today for expert guidance, innovative designs, and high-quality window signage solutions that will elevate your Sacramento business and leave a lasting impression on all who pass by.
Call Universal Signs today at (916) 287-8834 for your Free Consultation with Window Signs Specialist!
Professional Window Signs For All Types of Businesses
At Universal Signs, we specialize in creating customized window graphics and signs that cater to the unique needs of every business. Our on-site graphics designers are skilled and ready to assist you in crafting custom window graphics that align with your branding ideas, effectively deliver messages to customers, and support your business marketing goals.
Our comprehensive range of Window Signs Products includes:
Promotional/Sale Banners: Eye-catching banners to promote special offers and sales events.
Vinyl Privacy Film: Provide privacy for patrons inside your business while maintaining a professional appearance.
Vinyl Window Clings: Versatile and removable window clings that can be easily applied and removed.
Full-Color Window Posters: Vibrant and attention-grabbing posters to showcase your products or services.
Vinyl Window Graphics: High-quality and attractive graphics that make your storefront stand out and catch the attention of passersby.
Vinyl Window Lettering: Professional and stylish lettering to display your business name, logo, or other important information.
With our diverse selection of window signs, you can effectively utilize your storefront to communicate with customers, promote your offerings, and enhance your overall brand presence. Whether you need temporary promotional banners or permanent vinyl graphics, our team is committed to delivering top-notch products that meet your business requirements and leave a lasting impression on your Sacramento audience.




Still, deciding which vinyl product will best suit your needs? No worries! We'll discuss your sign needs during the Free Consultation you will have with one of our window signs specialists. They will recommend a vinyl solution that suits your budget, location, and business best.
Window Signs For Retail Store Fronts
In a retail store, window displays hold significant importance, and it's not without reason! An appealing and eye-catching window display can capture the attention of passersby, drawing them into your business. Whether you have a sale, special promotion or want to showcase specific products, your window display is the perfect platform to promote it.
Many store owners update their window displays seasonally to feature the latest and hottest items they have to offer. At Universal Signs, we can provide compelling and attractive window banners, graphics, and signs that effectively promote your products, sales, and events. Our customized solutions are designed to entice potential customers, ensuring short-term and long-term impact for your business.
With our expertise in creating window graphics and signs, you can showcase your unique offerings visually appealingly, drawing customers to explore what your retail store has to offer. We understand the importance of making a lasting impression on your target audience, and our high-quality window displays are tailored to meet your specific branding and marketing needs.
When you choose Universal Signs, you gain access to our talented team of on-site graphics designers who are ready to bring your ideas to life. From eye-catching window banners to captivating graphics, we help you make the most of your storefront and create a powerful visual representation of your business.
Whether you need temporary window displays for short-term promotions or long-lasting graphics for ongoing advertising, we have the perfect solution for your retail store. Let your window displays speak volumes about your products and promotions, attracting potential customers and boosting your business's visibility in the vibrant city of Sacramento.
Privacy Window Film for Offices
Privacy window film is a highly sought-after option in office buildings, especially for businesses like real estate agencies, therapist or counselor practices, or law firms. It provides an effective solution for maintaining privacy within the office while still allowing natural light to filter through. At Universal Signs, we offer privacy film with either frosted glass or etched finish, providing your firm with a professional and sophisticated look without the permanence and expense of frosted glass panes or panels.
To add a personalized touch and reinforce your branding, many offices have their name, logo, or other images incorporated into the privacy film. Our skilled team can create unique, customized privacy films that perfectly match your business's identity. We maintain a diverse selection of the most popular vinyl film options in stock, allowing you to explore various choices before making the best decision for your Sacramento business.
Our high-quality privacy window film allows you to create a comfortable and private workspace for employees and clients without compromising aesthetics. Enhance your office's professionalism and elevate your brand presence with our customizable privacy film solutions. Whether you prefer a frosted glass appearance or an etched finish, our expertise in window vinyl and film ensures a seamless installation process and an impressive result that leaves a positive impression on all who visit your office.
Window Signs for Different Service Providers
As a service provider in Sacramento, you may not have physical products to sell, but you can still have an enticing window display. You can elevate your business's storefront with eye-catching graphics that promote special offers, showcase your services, or even feature a captivating window mural showing how you can help your target audience. Our talented graphics designers are ready to collaborate to create a compelling sign that perfectly represents your business and fulfills all your requirements.
As a full-service sign solutions provider, we take care of every aspect of the process, from design to installation, ensuring that your window graphics are professionally crafted and seamlessly installed. Whether you need window decals, vinyl lettering, or a full-fledged window mural, we have the expertise to bring your ideas to life and transform your window display into an attention-grabbing marketing tool.
With our custom window graphics, you can effectively communicate your unique services and value proposition to potential customers passing by your business. Let your window speak volumes about what you offer, and leave a lasting impression on your desired demographic. Whether you run a medical practice, a consultancy firm, or any other service-oriented business, our custom window graphics will help you make a memorable impact in the bustling city of Sacramento.
Free Consultation
Universal Signs is here for you, from the initial design to installation. We create the kind of professional window displays, graphics, and signs your business needs to provide privacy or attract more clients. Whatever your goals are as a Sacramento business, we at Universal Signs can create the perfect solution for your storefront or business window.
Call Universal Signs today at (916) 287-8834 for your Free Consultation with Window Signs Specialist!