Elk Grove Wedding Signs
VIEW GALLERY
Weddings are all about memorable moments. And every couple wants their special day to be unique, right down to the last detail. One element that adds a remarkable touch? Wedding signs. These signs are more than mere markers; they're emblems of love, guiding every guest's step. At Universal Signs, Elk Grove's top sign-makers, we believe every sign tells a story.
Wedding signs have the power to infuse a touch of magic and personality into the celebration, making each moment truly unforgettable. Our team at Universal Signs takes great pride in creating wedding signs that beautifully reflect the couple's love story and vision for their big day. With our expertise, attention to detail, and dedication, we ensure that every sign becomes a cherished memento, etching precious memories in the hearts of both the couple and their guests.
Call Universal Signs today at (916) 287-8834 for a Free Consultation with a Wedding Signs Expert!
Vinyl Vibrance: Perfect Wedding Reception Signs
While there's a certain charm to rustic wedding signs made of wood and the nostalgia of chalkboard wedding signs, there's nothing quite like the modern appeal and versatility of vinyl. Vinyl signs for wedding receptions are not only durable but also give an elegant and polished touch. They're a match made in heaven for both outdoor wedding signs and indoor settings.
When it comes to vinyl signs for wedding receptions, the possibilities are endless. Our team at Universal Signs excels at crafting custom designs that perfectly complement the couple's unique style and theme, whether it's a romantic garden wedding or a chic urban affair. With vinyl's wide array of color options and sleek finish, these signs effortlessly elevate the ambiance, leaving a lasting impression on guests and capturing the essence of the special day. Let us help you create wedding signs that will be treasured keepsakes for years to come.
Why Choose Universal Signs's Custom Wedding Signage?
Creativity Abounds: Looking for unique wedding signs? From wedding welcome signs to wedding seating signs, we craft each with a burst of creativity. Our gallery is bursting with wedding sign ideas to match every theme.

Personal Touch: We understand the appeal of handmade wedding signs, and that's why every custom wedding sign we create is infused with the love and care of a personalized touch.

Variety is Key: Whether you're leaning towards elegant wedding signs, dreaming of vintage wedding signage, or have a soft spot for modern wedding signage, we've got you covered. Looking for DIY wedding signs templates? We've got those too!

Signs for Every Step: From wedding direction signs to make sure Aunt Martha doesn't get lost, to wedding reception decor signs that add that extra oomph, we cater to every wedding signage need.
Sprinkle Some Extra Magic with Specialty Signs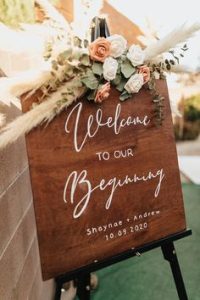 Wedding Welcome Board: Welcome your guests with style. Our boards are designed to echo your big day's theme, be it modern, rustic, or vintage.
Wedding Banner Signs: Let the world know you're tying the knot! Our banners are perfect for announcing your joy.
Wedding Ceremony Signs: Let every ritual get its spotlight with signs that reflect the ceremony's essence, be it traditional or contemporary.
Wedding Reception Signs: Guide your guests seamlessly through the celebration with elegantly designed signs directing them to the cocktail hour, dance floor, and more, ensuring they don't miss a single moment of the festivities.
Custom Wedding Signs: Have a unique vision in mind? Our team at Universal Signs is ready to bring your dream wedding signs to life. From personalized messages to bespoke designs, we'll tailor each sign to match your style and create an unforgettable atmosphere.
Photo Booth Signs: Capture fun and candid moments with our delightful photo booth signs, adding a touch of charm and excitement to the snapshots that will be cherished for years to come.
Why Universal Signs is Elk Grove's Go-to for Wedding Signage
Our blend of wedding signage ideas, from rustic wedding signage to elegant wedding signs and everything in between, ensures your day stands out. Not just for you, but for every guest that steps in. With a plethora of options, including wedding chalkboard signs, wooden wedding signage, and the ever-popular vinyl, our signs are a beacon for couples looking to shine on their big day.
At Universal Signs, we take pride in our diverse collection of wedding signage ideas that cater to various styles and themes. Whether you're planning a rustic wedding, an elegant affair, or something in between, we have the perfect signs to make your day truly memorable. Our range of options, including charming wedding chalkboard signs, elegant wooden wedding signage, and versatile vinyl signs, allows couples to find the perfect match that complements their unique vision and adds a special touch to their celebration. Let our wedding signs be the guiding light that shines brightly on your big day, creating lasting memories for both you and your guests.
Ready to Light Up Your Big Day?
Your wedding deserves the best. And the best signs come from places with passion, expertise, and a touch of magic. At Universal Signs, we promise all that and more. Ready to discuss your wedding sign decor? At Universal Signs, we understand that your wedding day is a momentous occasion, and we are passionate about creating the perfect signs to add a touch of magic to your special day. Our team of experts will work closely with you to bring your vision to life and ensure that every detail of your wedding sign decor is just as you've imagined. Contact us today to discuss your wedding sign needs, and let us help make your big day even more memorable with our exquisite and personalized signage solutions.

Don't wait! Schedule a free consultation call with Universal Signs at (916) 287-8834 today and let's bring your wedding sign dreams to life!!