Rancho Cordova Custom Vinyl Wall Murals
VIEW GALLERY
At Universal Signs, we are the go-to local Rancho Cordova provider for high-quality, attractive wall graphics and murals.
Murals are ideal for business use, as they can transform long hallways into engaging history displays that share more about your company's background. Additionally, murals can add excitement and color to otherwise dull walls, making them perfect for displaying your company's logo in office lobby areas.
No matter your intended purpose, placement, or design, we offer various options, from inspirational murals in break rooms to essential handwashing signs in bathrooms. Our team specializes in designing, creating, and installing perfect vinyl wall stickers, graphics, and signs that suit your unique needs. Suppose you want better utilize the blank walls in your office building or have a mural idea in mind. In that case, our knowledgeable and experienced staff is here to help you transform your ideas into brand-promoting works of art on your business walls.
Call Universal Signs at (916) 287-8834 for a Free Consultation with a Wall Mural Specialist!
Complete Design Control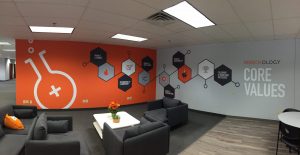 At Universal Signs, we create customized murals that perfectly match your space, branding, and business. We use durable, high-quality vinyl to craft attractive and eye-catching wall lettering and graphics, allowing you to display any message you desire. Our team can handle it all, whether it's a stunning, large-format landscape mural or a series of single wall decals that tell a story.
Change your mind? No problem! Our Rancho Cordova murals are removable, allowing you to take them down whenever you wish. You can replace them with a new design that reflects your current promotions or branding or revert to the plain, undamaged walls. With our versatile and removable murals, you can update your space as needed while maintaining a fresh, engaging look that aligns with your business goals.
Full-Service Wall Vinyl Company
If you are still thinking of a mural design or idea, our experienced and professional graphic designers can significantly help. As your go-to wall vinyl company, we take care of the entire process for you, assisting with design to installation. We can even perform an on-site evaluation, including precise measurements of your walls, to ensure the murals we create fit ideally.
At Universal Signs, we only use the best and highest-quality materials, ensuring that the wall vinyl we create for you is long-lasting, durable, and attractive. Our mural options range from matte to high-gloss finishes, all suitable for placement within your business. With our expertise in creating customized and high-quality murals, you can trust us to transform your space into an engaging and visually appealing environment that perfectly represents your Rancho Cordova business.
Professional Vinyl Mural Installers
While it is possible to install vinyl on your own, it is highly recommended to have a professional and experienced vinyl installer handle the task for a smooth finish and optimal results. Installing smaller graphics may be simple, but larger vinyl sheets can present challenges. Improper installation could result in small rips, creases, or bubbles, leading to an unprofessional appearance.
As a professional Rancho Cordova mural installation company, we adhere to the highest standards in our installations. If any issues arise during our facility, such as damage to your vinyl, we will replace the entire piece free of charge. However, if your vinyl gets damaged during a self-installation, we cannot be held responsible for the damages. Therefore, professional installation is a wise choice, especially for large-format vinyl murals, as it ensures a flawless and visually appealing result for your business.
Free Consultation
Our team of experts at Universal Signs is fully committed to providing our clients with outstanding support and products. We aim to become the go-to Rancho Cordova, CA, sign and murals company for all your business marketing and signage needs. Offering a range of sign services and products, we guarantee that our products and solutions will ensure that your business always looks professional and sharp and is there to meet the needs of its customers and new clients its signage attracts every day.
Call Universal Signs at (916) 287-8834 for a Free Consultation with a Wall Mural Expert!