Sacramento LED Signs
VIEW GALLERY
Want to give your company the lasting appeal of a vintage neon sign at a fraction of the cost without dealing with ongoing maintenance hassles? LED signs are the best option for you: a smart, cost-effective modern substitute that skillfully captures the allure of nostalgia.
At Universal Signs, we've achieved the classic neon look using energy-efficient LED bulbs, all while reducing costs significantly. Rest assured that the cherished retro atmosphere remains, and your company benefits while reducing your sign's environmental impact.
Our LED backlighting option offers a flexible solution if you're looking for a luminous sign that departs from the neon tradition. This feature can be used to adorn cabinet signs, channel letter storefront signs, acrylic signs, and other types of signs for various businesses, including bars, restaurants, hotels, and theaters. If your company stays open late at night, it's the ideal way to make your establishment stand out in the dark.
The ability to precisely customize our Sacramento LED signs to meet your needs sets them apart. Select from various designs, hues, and animation options to ensure your illuminated sign is a distinctive and alluring representation of your brand. We give you the tools to efficiently and stylishly light up your business.
Call Universal Signs today at (916) 287-8834 for your Free Consultation with a Sacramento LED Sign expert!
Indoor LED Signs
Beyond the limitations of storefronts, LED signs are used in various indoor settings, with the iconic illuminated "OPEN" sign serving as just the tip of the luminous iceberg. LED signs provide many inventive options for companies looking to highlight different aspects of their operations.
Imagine using these eye-catching illuminated signs to direct customers' attention to particular areas within your business—possibly emphasizing order or pickup stations or subtly pointing them toward exits. The functionality and aesthetics of your company can be improved with the flexibility of Sacramento LED signs, whose adaptability knows no bounds.
There are countless options available to you when it comes to its design. For a neat, professional appearance, you can choose standard lettering and fonts or explore your creativity and have a unique sign made to your precise requirements. With this level of customization, you can be certain that your illuminated signage will perfectly reflect the needs and branding of your particular company.
Explore how LED signs can illuminate and elevate your company, both inside and out, showcasing your uniqueness and improving customer experience. Universal Signs warmly encourages you to do so.

Programmable LED Message Centers
Are you looking for a customized, dynamic message board that can inform your staff and customers? For custom, programmable LED message center signs, Universal Signs is what you are looking for.
These adaptable wonders offer a number of benefits over traditional neon or LED displays. They can be used independently as a powerful communication tool or seamlessly integrated with your storefront, pole, or monument sign.
Our LED message centers are distinguished by their unmatched customizability, allowing you to quickly change your messages as needed. Say goodbye to static messaging because these innovative displays allow you to modify and communicate your information in real time.
Our Sacramento, CA sign company has you covered in terms of variety. You can pick from various message center designs, including monochrome units and full-color graphic displays. These choices guarantee that your messaging leaves a lasting impression on your audience in addition to being informative.
Custom LED message centers from Universal Signs will up your communication game because they're made to educate, engage, and leave a lasting impression. Because information should be as dynamic as your business in the digital age, you can send your message whenever you want.

Full-Service Lighted Sign Company
Universal Signs is a full-service Sacramento LED sign business that manages every aspect of LED sign creation, from conceptual design to meticulous installation and quick repairs. You form a partnership with a quality sign collaborator when you choose a custom sign from us. This collaborator is dedicated to being your steadfast ally for all of your current and future signage endeavors. You are not just investing in a quality sign when you choose one from us, but a lifetime partnership with a reputable sign company you can trust.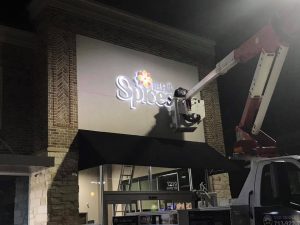 Thanks to our extensive capabilities, knowledge, tools, and creative prowess to realize any vision, our services cover an impressive range of business signage solutions. Universal Signs is prepared to design and deliver your custom signage requirements, whether you need elegant lobby signs, striking storefront signage, ADA-compliant directional signs, attention-grabbing trade show displays, eye-catching vehicle wraps, vibrant indoor/outdoor banners, or powerful yard signs.
It's not just about signs with Universal Signs; it's about empowering your business with a full range of visual communication solutions. We are your partners in creating a lasting impression now and on all future signage journeys. We are more than just sign makers.

Free LED Sign Consultation
Consider the allure of your company as a captivating flame that beckons clients. Our custom Sacramento LED signs at Universal Signs are the key to creating this magnetic attraction. These unique creations are more than just signs; they are beacons of brilliance created to captivate and leave a lasting impression on everyone who sees them.
Our LED signs are a powerful tool that turns your business into a magnetic centerpiece, attracting clients like moths to a flame and ensuring your brand stands out in the crowded market. They are more than just a means of communication. So what are you waiting for? Reach out to us today because Universal Signs is excited to help you bring transformation to your business through our signage.
Call Universal Signs today at (916) 287-8834 for your Free Consultation with a Sacramento LED Sign expert!