Elverta Window Graphics
VIEW GALLERY
Build excitement and interest around your newest and hottest merchandise and/or solutions with irresistible customized window graphics!
If you are marketing particular products, you are looking to deliver privacy for your customers inside your business, or only wish to educate your interested clients about your product/service mix, engaging window signs and graphics get your business seen and recalled.
Universal Signs is your reliable Elverta window signage provider, generating persuasive window graphics, displays, decals, and clings that keep you top of mind.
Call Universal Signs today at (916) 287-8834 for your Free Consultation!
Window Signs For All Businesses
Universal Signs produces the right window graphics and images for brand promotion. Our skilled vinyl sign and graphics professionals produce specialty window graphics that are cohesive with your current branding, support your business marketing goals, and provide the information potential customers need to choose you.
Our window sign products include:
Cut Vinyl Lettering and Graphics
Complete Window Wraps
Full-Color Posters
Clings, and Banners
Custom Branded Privacy Film
& a lot more!




Our team works diligently to produce the right sign and graphics solutions to support your branding efforts. We listen and learn about your company and brand in order to make intelligent suggestions for sign and graphics products that are perfectly suited to your brand. Our experienced staff is excited to help support your business and marketing goals with engaging and attractive window graphics, lettering, signs, wraps, banners, and more.
Retail Window Graphics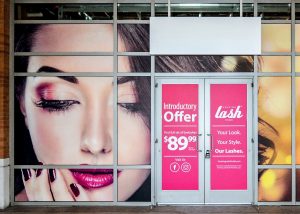 Retail shops expend a lot of time and energy on planning their promotional window displays. A distinctive window display is intended to invite engaged prospective purchasers in your store. When promoting a special sale, promotion, or event, or are looking to boost sales connected to a new, high-margin product; compelling window displays are an excellent way to accomplish this.
Generally, window displays are revised with the seasons to emphasize the newest products your business provides. Universal Signs designs, fabricates, and installs brand-promoting window signs, graphics, and displays to build interest in your special sales and events and useful goods in a high-quality way that will attract more interested shoppers.
Privacy Window Vinyl For Offices
Multi-office facilities, like service professionals, law firms, insurance brokers, real estate agents, counselors and therapists, and many other business types, take advantage of durable vinyl window film on their business facade windows for promotion, privacy, or branding applications. Our Elverta, CA team of experts manufacture privacy film that offers the same professional feel as a custom etched glass window, without having the expense and hassle of entire replacement glass panels.
Including your business name, logo, and other critical information into your privacy film is an inexpensive option for improving your business visibility while still maintaining appeal. Our experienced sign and graphics experts can fabricate a unique privacy film targeted specifically to your business and clients, or present good examples of frequently used vinyl film solutions that will reinforce your branding and business goals.
Window Signs For Service Providers
Done professionally, service providers can also attract more potential customers with a show-stopping window display! Put your windows to work for you with custom murals, banners, posters, graphics, or lettering demonstrating your unique goods and services, specific deals, or even integrate an exciting and informative display that portrays exactly how you serves your ideal new customers. Our expert custom sign and graphics project managers take your unique needs into consideration to provide the optimal custom display that you want. We take care of production as well as the installation of your custom branded window signs and graphics.

Free Window Graphics Consultation
If you are serious about growing your Elverta business presence, Universal Signs delivers.
Call Universal Signs today at (916) 287-8834 for your Free Consultation with a Window Graphics Specialist!