Citrus Heights Dimensional Letters
VIEW GALLERY
Engaging, striking, and dynamic, custom dimensional letters, graphics, and signs are a highly effective option for any brand seeking to make a remarkable first impression.
Commonly referred to as 3D or raised letters, dimensional letters are textual or graphical elements that add depth and intrigue to your signage. These signs are meticulously fabricated, molded, cast, or cut from solid material to achieve their unique, three-dimensional appearance.
Dimensional signage provides the integrated branding solution that savvy business owners seek. It creates a consistent brand aesthetic inside and outside your premises, attracting and assisting new clients and guests.
At Universal Signs, we firmly believe that custom dimensional letters are a wise choice for virtually any business. Whether you operate an office, medical facility, convenience store, non-profit, salon, or any other establishment, our Citrus Heights dimensional letters are designed to enhance the appearance of your premises indoors and outdoors.
Our team focuses on crafting raised letters with high visibility in mind, designed to expand your marketing reach. At Universal Signs, we use only the highest quality materials for our signage. So, once your dimensional letters are installed, you can rest assured they will continue generating interest in your business for many years.
Call Universal Signs today at (916) 287-8834 for your Free Consultation!
Appealing Storefront Signage
Dimensional signs are an excellent choice for your main sign because they are easily recognizable and instantly appealing. They add depth and texture to your storefront, giving it a more sophisticated look. Another advantage is their versatility; you can mount them on your building's exterior or use them effectively in post and panel, monument, and pole signs. Alternatively, you can consider channel letters as another option.
While 3D letters are not internally lit, at Universal Signs, we offer the option to include lighting fixtures, back lighting, or outline lighting during the installation of your dimensional letters. This ensures that your letters remain visible even in bad weather conditions. With our custom dimensional lettering, your business will stand out and attract potential customers, making your value proposition more noticeable.
Attractive Indoor Lettering
Dimensional letters are not limited to your business's exterior; they also create an appealing ambiance when used as lobby signs. Installing them near your foyer ensures that your corporate branding becomes the first thing your clients and guests notice upon entering your building. The versatility of dimensional logos and lobby signs allows them to be made from various materials and mediums, offering options for display, including lighting, if desired. Additionally, these dimensional letters can serve as directional signage and other custom signs and graphics, significantly impacting retail and convenience stores.
Despite their name, 3D letters are not limited to just lettering. You can also use them to create custom signs with images, numbers, logos, or any elements you desire. These signs can be mounted on the walls of your facility, adding a unique touch to your interior space. Our team at Universal Signs is dedicated to helping you develop interior signs and displays that perfectly match the identity and originality of your brand.
If you want your brand to leave a lasting impression with a powerful 3D appearance, Universal Signs offers dimensional lettering that truly represents your brand and ensures it is remembered by all who see it.
Durable Dimensional Letters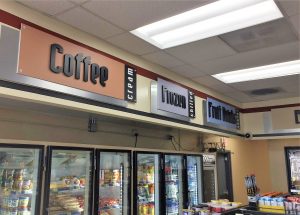 At Universal Signs, we offer 3D lettering and graphics crafted from various materials to match your branding needs ideally. You can choose from light foam, metal, plastic, and wood as the primary material for your signage project.
Plastic has gained popularity as a sign material because of its versatility, including options like acrylic, PVC, coroplast, and vinyl. Plastic letters are rugged and stable, making them an excellent choice for outdoor dimensional signage and lettering. On the other hand, metal is a perfect option for indoor letters, offering a stylish aesthetic, and it can still be highly durable when used outdoors. Typical metals used in sign-making include aluminum, brass, copper, stainless steel, and bronze. If you are looking for high-impact, colorful letters, light foam is an ideal choice as it is sturdy, lightweight, durable, and thick.
Our dedicated team is here to help you find the most suitable sign style and materials to achieve your desired finished look without exceeding your budget.
Full-Service Sign Company
Selecting the perfect sign to represent your business and brand can be challenging, requiring experience, time, research, patience, and a reliable manufacturing process. But with Universal Signs, you can navigate this process with help. Our team of skilled sign makers and visual artists in Citrus Heights , CA is here to assist you in developing your signage.
At Universal Signs, we provide custom sign designs and help you choose the best materials and mediums that align with your business purpose, budget, and specific needs. We also want to ensure that your signage and lettering are strategically placed for maximum impact. If you need support or have questions about your custom signs, our specialists are just a phone call away. Don't worry, Universal Signs is here to help you with all your signage needs.
Free Dimensional Letters Consultation
At Universal Signs, we offer various customization options for your brand marketing signage products. Whether you aim to attract more customers to your facility, enhance your brand identity, or improve customer navigation, our Citrus Heights dimensional letters, images, and logos are the ideal solution for fulfilling your unique business needs. With virtually limitless possibilities, we can create the perfect signage to suit your specific requirements.
Call Universal Signs today at (916) 287-8834 for your Free Consultation with a Dimensional Letters Expert!