Antelope Vehicle Decals
VIEW GALLERY
Vehicle decals are good-looking, creative tools to improve a business-use vehicle. But they are not only used for aesthetic purposes. They are also one of the most cost-effective ways to promote your business.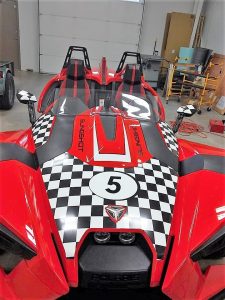 Do you know that 96% of people find mobile graphics advertising more effective than traditional ads? This is according to a survey by the Outdoor Advertising Association of America. Moreover, the Traffic Audit Bureau for Media Measurement reports that these vehicle graphics generate 30,000 to 70,000 impressions daily, costing only about $0.77 per thousand impressions!
Indeed, if you're looking for an affordable advertising solution, you will not go wrong with Antelope vehicle decals.
Universal Signs, a full-service sign company, specializes in this product. We know all about vehicle decals and graphics. We have the best materials and know how to maximize their use, from design to installation. We're excited to provide your car, truck, or van with a decal that powerfully spreads your visibility to a much wider audience.
Vehicle decals take your business on the road, boosting your marketing to new heights much more than stationary signs. If you want the best of this product, go to Universal Signs!
Call Universal Signs today at (916) 287-8834 for your Free Consultation with a Antelope Vehicle Decal expert!
Maximize Your Advertising Space
While most businesses want to maximize their vehicle advertising space, it's crucial to ensure that design placement and decal material don't obstruct visibility and road safety.
Applying signs on the side and rear windows can be quite challenging when getting vehicle decals. Universal Signs has the solution: high-quality perforated decals. This product lets your vehicle's side, rear, and dashboard windows showcase impressive designs without compromising the driver's view. These decals also help reduce glare and harsh shadows by diffusing bright light.
Our perforated decals are low-maintenance, fade-resistant, and durable. They offer a great choice for all businesses that want to maximize their vehicle's space for marketing purposes.
Give Your Vehicle a Customized Look
With our long years of experience in the sign-making industry, Universal Signs knows the importance of consistent branding. This applies even when your business involves a lot of vehicles that are always on the move. Wherever your vehicle goes, it's our job to ensure you bring your exact brand everywhere.
Want to do some high-level customizations? You came to the right place. Our custom mobile graphics can go transparent in areas without printing. This allows our customers to have great freedom in choosing the size, placement, and other specifications of their decals. Like die-cut vinyl lettering, Antelope vehicle decals are budget-friendly yet offer so much.
If you already have an existing design, we can work on it immediately. And if you start from scratch, we still have your back. We have the perfect team that can help you either way.
Keep Your Ad Content Current
As your sign company, Universal Signs is committed to ensuring your business signs and advertising stay current.
One of the ways we achieve this is through cost-effective opaque vehicle decals. They come in a range of shapes and sizes. The best part is that these decals are durable, eye-catching, and easy to remove, making them ideal for short-term use and perfect for seasonal changes in your business landscape.
Replacing/removing mobile graphics can be a headache for many businesses. You get worried about damaging your vehicle's paint or leaving it with messy residue. However, our high-quality vehicle decals help you with a seamless and stress-free process when giving your vehicle a new appearance!
Full-Service Sign Company
Our team of signage experts at Universal Signs is deeply dedicated to producing top-notch vehicle graphics for our clients. This also means we are here with you throughout the sign-making journey.
We have project managers who assist with pacing and organization, artists who bring your creative ideas to life, and printing and decal experts who handle technical production and installation phases. Plus, we have support staff to handle the rest of your needs as a customer!
Our cutting-edge equipment, handled by the best experts in the signage industry, is all you need to get the best Antelope vehicle decals for your company!
Free Vehicle Decals Consultation


If any of our services will serve you effectively, call us today! If you don't know how to begin, just a simple call will suffice. We'll be with you from then on.
Our Antelope, CA sign company is at your service. Our team can handle all your vehicle decals and other signage products needs.
Call Universal Signs today at (916) 287-8834 for your Free Consultation with a Antelope Vehicle Decal expert!