Sacramento Lighted Signs
View Sign Gallery
Need a way for your Sacramento business to outshine every distraction around it? There is no better solution than a custom lighted sign.
Lighted signs are the best way to truly outshine all the other distractions around and to provide necessary information to your target audience.
Lighted signs improve business visibility helping people to navigate to your facility and to help your message stand out in a crowded marketplace.
If you need a quality lighted sign for your specific business purposes, we will create the perfect customized sign, from design through to installation.
From budget-friendly lighted signs to elaborate LED lighted signs, Sacramento Sign Company will design and manufacture the perfect solution to fit your unique business requirements and location. Our Sacramento, CA team of highly skilled technicians are proficient at creating illuminated storefront signs, lobby signs, logo signs, and any other custom sign you may need for your identification or promotional needs.
Call Sacramento Sign Company today at (916) 287-8834 for a Free Consultation with a Lighted Sign Specialist!
Traditional Neon Signs
America is a highly mobile nation and, according to the AAA Foundation, the average American drives more than 10,658 miles and spends around 280 hours on the road per year. These mobile people are a daily captive audience with the potential of being exposed to your business signage, so make it count.
Although neon signs have been extremely popular and highly effective for many years as an advertising and marketing medium and still appeal to many, the high maintenance and repair costs required no longer make it a worthwhile investment. With modern technology LED lighting has improved to the level where they can compete in appearance with neon lighting, but are less expensive to maintain and have a longer lifespan.
Day or night, LED lighted signs are highly visible making it very easy for passers-by to identify your location and what you have to offer 24 hours a day and under any weather conditions.
If you like the look of a neon sign but want to avoid the maintenance and repair costs, give us a call, and we will be happy to show you our neon alternative solutions
Lighted LED Signs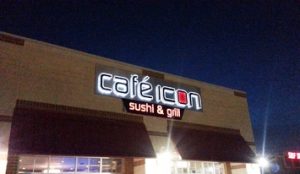 LED lighted signs have many applications that help light up your business signs. They are particularly useful for businesses that are open in the evenings like nightclubs, hotels, theatres, and restaurants, as well as shops that offer late-night services such as gas stations and convenience stores.
Capture the attention of passers-by with budget-friendly outdoor LED lighted signs. They provide a long-term, budget-friendly advertising tool that efficiently drives traffic to your Sacramento business.
Channel letter signs and cabinet signs both benefit from LED backlighting, and a neon-look can be created by using high-efficiency, low energy LED light bulbs. Sacramento Sign Company can custom design LED signs in a wide variety of styles, colors, and animation options to fit the unique requirements of your business or marketing needs.
Indoor Lighted Signs
LED lighted signs can be used very efficiently indoors to promote all aspects of your business. These signs can be custom made to suit your particular business needs. With the backing of our professional and highly skilled technical team, we are confident that we will help turn your ideas into reality.
Whether you need an OPEN sign or lighted signs to excite and entice your customers, we will put our expertise and knowledge at your disposal to achieve just the right signs for you.
Programmable Digital Message Centers
If high-tech is an important aspect of your signage needs, LED Message Center Signs may be just what you are looking for. These impressive programmable digital message centers are custom-made and can be stand-alone or part of another sign. They have numerous advantages over standard lighted signs. Messages can be customized and are easily updated whenever necessary. They come in a variety of color options and some models contain dazzling full-color graphics.
Full-Service LED Sign Company
At Sacramento Sign Company our dedicated staff is here to assist you with every aspect of your lighted sign requirements, from initial consultation to get to know you and the ideas you have in mind, through the design, manufacture, to final installation of your quality custom signage.
As a one-stop-signage shop we have all the quality materials, equipment, and professional staff to fulfill all our signage needs from exterior to interior, trade show displays to commercial vehicle wraps, and any other signage your Sacramento business needs.
Free Lighted Signs Consultation
With custom lighted signage from Sacramento Sign Company, you can outshine the competition! Contact us for your free sign consultation so we can show you how!
Call Sacramento Sign Company today at (916) 287-8834 for a Free Consultation with a Lighted Sign Specialist!