North Highlands Vinyl Signs, Wraps, & Graphics
VIEW GALLERY
Thinking of a new way to promote your business? You can never go wrong with using vinyl signs as your marketing strategy. Because of vinyl's flexible nature, it can be turned into many types of promotional products such as banners, lettering, murals, and so much more.
Universal Signs can help you get ahead of the game with our complete line of vinyl signage services. We offer consultation, design, fabrication, and installation of attractive vinyl signs and graphics. We create custom vinyl signs through the use of state-of-the-art large format digital printing equipment. If you are looking for an experienced and dedicated vinyl signage partner, look no further than Sacramento's own, Universal Signs!
For attractive commercial signage, trust Universal Signs as your North Highlands vinyl signs provider!
Call Universal Signs today at (916) 287-8834 for a Free Consultation with a Vinyl Graphics Specialist!
Promotional Vinyl Banners
Vinyl banners are an inexpensive and extremely versatile way to promote your business. Since vinyl is a durable, weather-resistant material, you can be confident that it will last in all conditions.
Banners are lightweight and portable, making it perfect for use at outdoor and off-site events. You can bring vinyl banners with you to trade shows, conventions, and fairs.
With their many benefits, it is no wonder that vinyl banners are now being used by businesses everywhere in a large variety of locations and ways.
Window Vinyl Clings & Film
There are many ways that you can use vinyl to improve the look and impact of your business windows. Whether you are looking for individual graphics, or complete coverage, Universal Signs has the perfect solution for your business.
We provide individual vinyl clings that can be removed and replaced easily with the seasons for retail displays, or more permanent solutions for long-term use at professional offices or services providers. Whatever your needs, Universal Signs has the right window vinyl solutions for your business!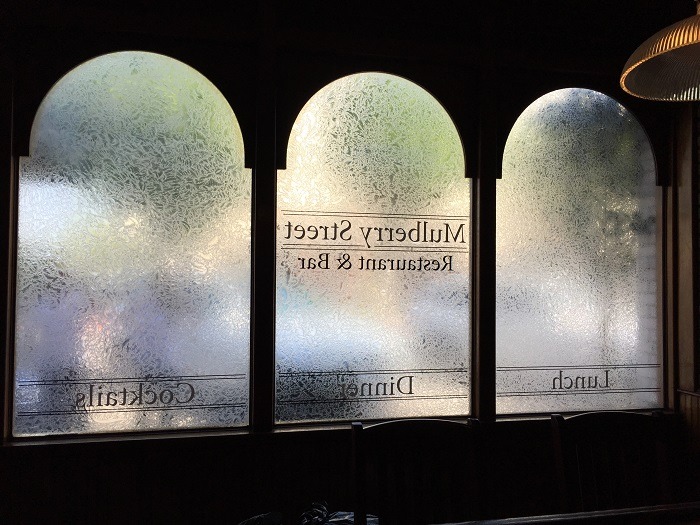 With their frosted or etched glass effect, vinyl films are an extremely popular material for providing privacy to professional offices, restaurants, or other businesses that may not want complete visibility into their facility from outside.
These are much less expensive and more easily customizable that glass panels, and provide you with more versatility for design updates down the road.
Cut Vinyl Lettering
Cut vinyl lettering is an attractive and inexpensive way to share important information, whether on your business doors or on your fleet vehicles.
Vinyl letters can be made in any size, color, or font, allowing you to completely control and customize the look you want. We provide these to you pre-cut and pre-spaced, making them easy to install in one go.
Many companies choose to use professional vinyl lettering on the doors and windows of their business to share information such as their hours of operation, business address and phone number, or to share a brief description of what they have to offer. Customers are instantly drawn to the professional and cohesive style.
Wall Murals
Transform an ordinary space into a beautiful and inspiring one using a well-designed, large-format wall mural. Wall murals can be used to highlight your products and services, tell the story of your brand, or simply add to the atmosphere of your breakroom, lobby, or any other area of your business that could use some color and excitement.
Universal Signs creates all of the attractive vinyl products your business needs to keep customers and employees engaged.
Universal Signs is your trusted North Highlands vinyl signs and graphics partner!
Vinyl Graphics Options
There are so many vinyl products available that choosing the best one for your business can be somewhat confusing. We will determine your goals and guide you to the best vinyl product to produce results for you.
We can fully transform your business into an inviting, professional, and stylish space, create attractive tradeshow displays, or create impactful window graphics that attract more customers. Whatever your marketing or business promotion goals may be, we have the high-quality and attractive vinyl signage solutions you need to accomplish them!
Our vinyl products include:
Desire cohesive indoor signs, outdoor signs, and custom signs for your business? We handle everything!
Full-Service Vinyl Graphic Shop
Universal Signs has an impeccable reputation in Sacramento for providing quality signage at a reasonable price. As a one-stop vinyl sign company, we offer a comprehensive range of services such as design, fabrication, and installation. This means that when you need something that has to do with a sign or graphic, there is only one company you need to call- Universal Signs!
We are dedicated to providing the outstanding products and service you expect from an experienced Sacramento sign company. If you are looking for a knowledgeable vinyl sign and graphic supplier that will create high-performing marketing elements, contact us today!
Free Vinyl Signs & Graphics Consultation
Universal Signs provides quality vinyl signs for businesses in Sacramento. We help small and large businesses grow by providing them with high-quality and affordable vinyl products.
Call Universal Signs today at (916) 287-8834 for a Free Consultation with a Vinyl Signs Expert!