Fair Oaks Wayfinding Signs
VIEW GALLERY
We've all experienced the frustration of not knowing where to go, but this shouldn't happen when we're on the premises of our favorite stores, hotels, malls, or any businesses we frequent. Wayfinding signs are the unsung heroes of this problem.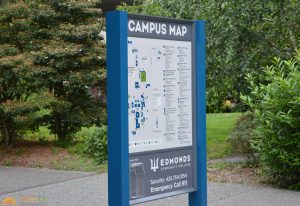 At Universal Signs, we understand that these signs must do more than look good and serve their purpose effectively. They have a dual role: showcasing an organization's visual identity and guiding people in unfamiliar environments. With our extensive experience in the sign-making industry, we've mastered the art of achieving both.
You can count on Universal Signs for the best Fair Oaks wayfinding signs you can install around your business or institution's area.
Whether you run a restaurant, hospital, warehouse, library, clinic, or school, we have your back.
Call Universal Signs today at (916) 287-8834 for your Free Consultation with a Fair Oaks Wayfinding Sign expert!
Identification Signs That Stand Out
Let customers know they're in the right places around your facilities with top-notch signs from Universal Signs.
Our location-identification signs and address signs create a great first impression and ensure a hassle-free visit for your active and potential customers.
We offer a wide range of materials and designs for these signs. We want you to have great freedom to choose the specifications you want. This applies to all our sign products, whether electronic, neon, room identifiers or ADA signs.
Finally, our outdoor identification signs are built to last. We manufacture our products in-house, using the finest materials and most effective methods, so you can expect quality, durable signs that won't bother your budget too much.
Strategic Directional Signs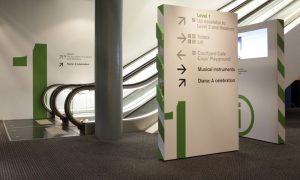 Directional signs prevent confusion and guide your customers and visitors effectively around most, if not all, kinds of interior and exterior areas. With Universal Signs, we can place these signs strategically at key locations like reception desks, elevators, lobbies, and loading docks to provide clear guidance.
We understand that it's not just about the text and design; it's also about where you put these signs. With our expertise as a trusted signage provider, we ensure that your directional signs are strategically placed for maximum visibility and effectiveness.
Information Signs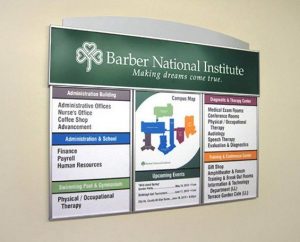 Another important function of wayfinding signs is plain information dissemination.
Universal Signs provides various signage options, including standing signs, plaques, digital displays, and vinyl lettering on windows—all designed to address your customers' most common questions.
Our team of signage specialists, including skilled graphic designers, ensures that your information signs not only convey the message effectively but also do so in a visually appealing way that enhances your facility's aesthetics.
ADA-Compliant Regulatory Signs
Finally, you can create a safe and well-organized environment for your customers and visitors with regulatory signs from Universal Signs.
These signs, including no-smoking, no-entry, speed limit, and parking signs, provide essential guidance for everyone in your facility.
At Universal Signs, we design and install regulatory signs with precision and ensure compliance with legal requirements.
We are well-versed in the specific standards outlined by the Americans with Disabilities Act (ADA) for signage, and we take them into account throughout the sign-making process.
Full-Service Sign Company
With years of experience in the signage and graphics industry, we possess in-depth knowledge of creating and designing wayfinding visuals.
We know how to use various design elements, such as proportions, typefaces, and color palettes, for crafting effective Fair Oaks wayfinding signs.
But more than technical skills, as a comprehensive Fair Oaks, CA sign company, we also guide our customers through the process.
Since we are also proud of our customer service, environmentally sustainable methods of production, and complete packages, we know we have what it takes to satisfy you with our products and services.
Free Wayfinding Sign Consultation


For all your identification, directional, information, or regulatory sign needs, count on Universal Signs. We're dedicated to providing signage that welcomes customers and ensures a great experience inside your facilities.
Let's have a conversation about how our Fair Oaks wayfinding signs can help you reach your goals more effectively.
Call Universal Signs today at (916) 287-8834 for your Free Consultation with a Fair Oaks Wayfinding Sign expert!