Mather Outdoor Signs
VIEW GALLERY
In the competitive landscape of Mather, it's essential to set your business apart from the rest and capture the attention of
potential customers amidst various distractions. A beautifully crafted outdoor sign can be the key to standing out and making a lasting impression. At Universal Signs, we create professional and eye-catching exterior signs that distinguish between being noticed or ignored.
As your comprehensive sign shop in Mather, we offer various outdoor signage services, from storefront and promotional consultation to design, fabrication, and installation. Whatever your business type, needs, or location, we can create stunning outdoor signs that perfectly complement your brand and attract customers. Take the first step to making your business shine by contacting Universal Signs for more information on how we can help you get noticed!
Call Universal Signs today at (916) 287-8834 for a Free Consultation with a Mather Outdoor Signs Expert!
Storefront & Building Signs
An exceptional storefront sign plays a crucial role in presenting your brand most favorably and becomes the face of your business. It's essential to avoid cutting corners when investing in one. More than ordinary storefront signs will be required; you need the expertise of a professional sign company that can create an eye-catching and imaginative storefront sign tailored to your business. At Universal Signs, we offer a wide range of outdoor signage services to assist you in achieving just that.
Channel Letters & Dimensional Letters
Channel and dimensional letters conveniently display your business name on your building, facade, or storefront. The versatility of customization options, such as colors, sizes, fonts, and styles, allows you to create a perfectly branded sign that attracts new customers.
Due to their stylish, sleek, and professional appearance, these letters have become one of the most popular choices for exterior signs among businesses today. Retail spaces, department stores, shopping centers, office buildings, and organizations often opt for channel letters as their primary outdoor sign.
Lighted Signs
Incorporating a lighted element into your signage can greatly benefit various businesses. Illuminated building signs are the perfect solution if you seek maximum visibility regardless of the time of day or weather conditions.
You have numerous options for lighted signage, such as cabinet and box signs, digital signs, backlit dimensional letters, illuminated channel letters, LED signs, or external lighting and spotlighting. At Universal Signs, we will help you determine the best option for your business, location, and brand.
Monument Signs
Monument signs are standalone structures located outside a business establishment, commonly placed at entrances to schools, corporate offices, manufacturing plants, government buildings, and other prestigious locations.
A monument sign consists of two main parts: the masonry base and the signage component. The masonry base is typically made of materials like stone, brick, wood, or stucco, and it is designed to complement the architectural style of the building. On the other hand, the signage component offers various options, ranging from etched or sandblasted stone to dimensional letters, metal panels, or even digital inserts, allowing for customizable messaging.
Pole Signs & Pylon Signs
As their name suggests, pole signs consist of a tall central support and an elevated sign. They are designed to be easily seen from a distance, making them practical for catching people's attention exiting an interstate or major roadway.
Pylon and tenant signs share similarities with pole signs but typically provide more information. Pylon signs may include multiple sign panels for each business within a shopping or business center, while tenant signs offer additional details about what the company has to offer.
These signs, including pole, tenant, and pylon signs, enhance visibility and attract new customers. Their impressive structure allows them to stand out from the competition, and with lighting or illumination, they remain visible at all hours and in all weather conditions.
Exterior Signage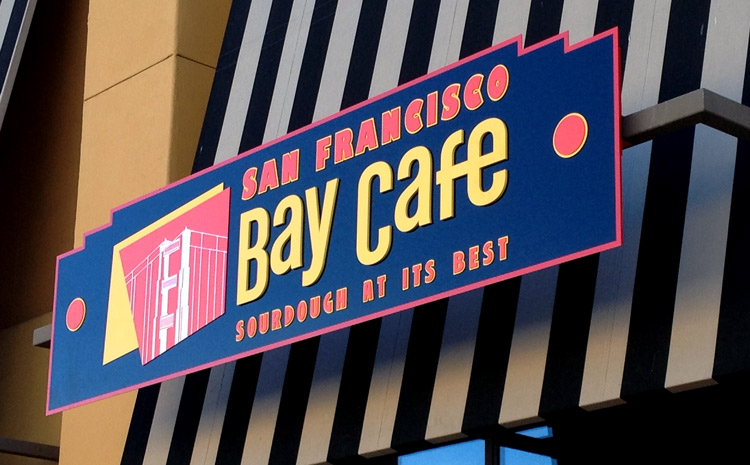 To achieve a successful and desired outcome for your exterior signage project, it's crucial to collaborate with the right outdoor signage company. At Universal Signs, we possess the expertise, tools, and resources to craft stunning exterior signs that effectively showcase your business, products, and brand.
Additionally, we provide a range of other exterior signage options to cater to your specific needs:
We provide signage for every aspect of your business, including indoor signs, vinyl signs, custom signs, and more!
Full-Service Exterior Sign Company
Choosing us to create your outdoor signs ensures a stress-free experience. In just four simple steps, you'll have a storefront sign to display over your business establishment proudly.
The process begins with a consultation where we understand your objectives and help you figure out the best outdoor signage for your specific needs and goals.
Our Mather designers will create a mockup design that perfectly aligns with your vision and branding guidelines. Once we get your approval, our skilled fabricators will start the building phase.
The final step involves the delivery and installation of the sign at its designated location. Also, we offer sign repairs and maintenance services if you need them. With us, you can expect a seamless and efficient sign-making process from start to finish.
Free Outdoor Sign Consultation
If you want more customers to come in through your doors, you must invest in high-quality storefront signage. Allow Universal Signs to help you create attractive outdoor signs to attract more customers and promote your brand!
Call Universal Signs today at (916) 287-8834 for a Free Consultation with an Outdoor Signs Expert!