Roseville Vehicle Wraps
VIEW GALLERY
Maximizing all your assets, including your vehicles, is crucial as a business owner. To enhance your marketing efforts, consider using attractive and high-visibility vehicle wraps to generate the exposure your business needs!
Vehicle wrapping involves applying large printed vinyl sheets on commercial vehicles to transform their appearance and promote your business. These vinyl wraps can cover the entire car or just a portion.
What makes vehicle wraps and graphics so effective? Mobile advertising is a powerful and efficient way to promote your business, and vehicle wraps are one of the most successful forms of it. They can reach hundreds of potential customers daily and work for you around the clock, whether parked or stuck in traffic.
Working with a professional sign company that offers beautiful vehicle wrapping and graphic services is essential to ensure a successful vehicle wrapping project. With Universal Signs, you can be confident that we can help small businesses in Roseville grow by providing affordable yet impactful ways to promote their goods and services.
Call Universal Signs today at (916) 287-8834 for a Free Consultation with a Vehicle Wraps Expert!
Vinyl Graphics, Partial Wraps, & Magnets
We are pleased to offer a diverse selection of vinyl vehicle wraps that cater to various budgets and preferences. You can choose a full vehicle wrap for maximum impact or a more minimal design, especially if you have budget constraints. Our alternative options ensure you can still enjoy the benefits of vinyl car wraps while effectively increasing your brand's visibility every time you take to the open road.
Partial Car Wraps
As the name suggests, partial vehicle wraps cover only a specific section of the vehicle, ranging from a ¼ wrap to a ¾ wrap, strategically placed to highlight the most prominent areas. Rest assured, our skilled designers excel at creating seamless and refined transitions between the vinyl sheet and the vehicle's paintwork, ensuring a polished and cohesive appearance.
Partial wraps offer an excellent option if you anticipate changing your vinyl wraps periodically to align with your evolving business requirements. Not only do they provide a cost-effective solution, but they also grant the flexibility to update your vehicle graphics with ease.
Vinyl Graphics
At Universal Signs, we specialize in creating striking and durable vehicle vinyl graphics that make a lasting impact on your business. Our state-of-the-art wide-format printing equipment enables us to design, fabricate, and expertly install custom vinyl graphics on various surfaces, including cars, trucks, boats, and more.
With precision-cut car decals, we ensure your business is presented in the best possible light. Whether you prefer a classic or vibrant design, our team can bring your branding personality to life through custom vinyl graphics that perfectly represent your business. Let us help you make a powerful statement on the road with our high-quality and eye-catching vinyl graphics.
Vehicle Magnets
Our premium vehicle magnets are excellent promotional tools for service vehicles. Unlike permanent trailer or van wraps, these magnets can be easily removed whenever needed. Vehicle magnets offer the perfect solution if you're an independent contractor working for multiple companies or prefer to avoid displaying a business logo on personal errands.
At Universal Signs, we take pride in creating high-quality magnets that are durable, weatherproof, and UV-resistant. With our interests, you can promote your business on your service vehicles and easily remove them when necessary, all while maintaining a professional and polished appearance.
Professionals Wraps For All Vehicle Types
As a small business, building your presence in the local community is essential to gaining consumer trust and recognition. Vehicle wraps offer a highly effective way to establish your brand, generating hundreds of impressions daily. Whether you have a small or large vehicle wrapping project, you can count on Universal Signs to handle it with expertise.
Our team specializes in creating various fleet graphics, and ad wraps for vehicles, catering to a wide range of vehicles, from delivery vans to food trucks and trailers. With our comprehensive lineup of vehicle wrapping services, you can choose from the following options:
Are you looking for attractive indoor, outdoor, business, or custom signs? Universal Signs does that too!
Attractive Wraps for Your Entire Fleet
Business vehicle wraps serve as powerful marketing tools that promote your business, instill confidence, and improve customer perception. For companies that require home visits, these wraps enhance credibility and create a sense of comfort for customers, making them more receptive to your services. This is particularly advantageous for heating and cooling companies, cable companies, technicians, delivery personnel, electricians, and independent contractors who can significantly benefit from the custom vinyl graphics and wraps we create.
The appearance of your service vehicles plays a significant role in shaping customers' impressions of your goods and services. At Universal Signs, with our extensive experience in vehicle wrapping, we design custom vinyl graphics that deliver an aesthetically pleasing look while staying true to your branding guidelines. Our wraps can transform ordinary cars into mobile billboards, maximizing exposure to your marketing message among potential customers. Whether you need a single-car wrapped or an entire fleet serviced, we cater to all types of vehicle covering jobs to meet your specific needs.
Promotional Car Wraps
Using your vehicle as a promotional tool for your business offers multiple opportunities to increase brand visibility and attract potential customers. While many companies opt for displaying their logo and business name on their fleet, you can include various other elements to strengthen your brand message. To reinforce your brand identity, include contact information, a tagline, or a specific marketing message. Promoting upcoming events, special deals, or product launches through vehicle wraps can generate excitement and interest. A compelling call-to-action statement can encourage potential customers to act, leading to increased engagement and sales.
Car wraps are especially advantageous for businesses without a physical location, such as local consultants, online companies, or those who use their vehicles for work. Using your truck strategically, you can effectively extend your marketing reach, reaching a wider audience and leaving a lasting impression on potential clients.
Custom Boat Wraps
If you have a business near the shore, such as a charter service, surfing school, commercial fishing company, or waterfront restaurant, our boat wrapping and graphics services are tailored just for you. At Universal Signs, we specialize in crafting marine-grade boat wraps and vehicle decals that will make your business stand out on the water and provide protection for your watercraft. Whether you need to promote your services, create brand visibility, or add a unique touch to your vessels, our boat wraps and graphics will elevate your business presence on the waterfront.
Your Designs, Perfected
If you're currently rebranding and looking for a complete facelift, our custom auto wraps can help you achieve that seamlessly. With our services, you can give your entire fleet a fresh look while reinforcing your corporate identity. If you already have a specific design, share the template with us, and we'll faithfully recreate it in the vehicle wrap.
On the other hand, if you need more clarification on the design direction, no worries! Our talented in-house designers can start from scratch and create eye-catching car or truck wraps that perfectly align with your brand.
By choosing our services, you can ensure a cohesive and consistent look across all your business vehicles, effectively conveying the same message wherever your brand is visible. We'd like to help you make a lasting impression on the road with our professional auto wraps.
Full-Service Vehicle Wrapping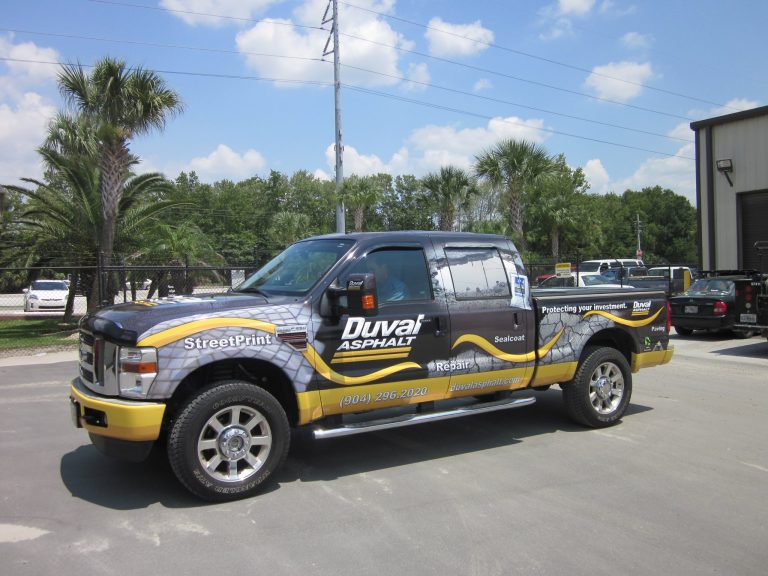 When you choose us, rest assured that you'll have a stress-free experience from start to finish. It starts with a free consultation, and we'll take the time to understand your business and objectives. We'll work closely with you to create a mockup design that incorporates your input and aligns with your company's vision.
At our full-service vehicle wrap fabrication facility, our expert team will manage your wrap project on-site. Our skilled fabricators will ensure that every piece is meticulously produced, following your expected timeframe. Once production is complete, our installation experts will professionally apply the wrap elements to your clean and prepped vehicle, ensuring a flawless and attractive result.
Free Vehicle Wrap Consultation


At Universal Signs, we specialize in designing and producing attractive, high-quality vehicle wraps and graphics that effectively showcase your brand. As a full-service signage partner, we are committed to delivering top-notch results at the right price. Contact us today to schedule your free consultation, and let us help you make your brand stand out!
Call Universal Signs today at (916) 287-8834 for a Free Consultation with a Roseville Vehicle Wraps Specialist!