Folsom Van Wraps
VIEW GALLERY
Van wraps are necessary for your business if you do contractor work, delivery services, or any other trade involving moving around a lot or going to your customers' addresses. This product, especially if you acquire it from Universal Signs, can do a lot for your business. It spreads your brand effectively, protects your van's surface, and makes clients feel comfortable letting you in their homes.
Here are the various types of van wraps that we provide:
Complete Commercial Van Wraps

Partial Van Wraps

Magnetic Vehicle Signs

Perforated Window Privacy Film

Durable Custom Vehicle Graphics
If you work with Universal Signs, you will get the best Folsom van wraps our industry offers. Of course, we will ensure the products and services match your budget!
Call Universal Signs today at (916) 287-8834 for your Free Consultation with a Folsom Van Wrap specialist!
Increase Client Trust
Picture this: a stranger enters your house in a creepy, windowless van. It sounds like something out of a scary movie, right? It shouldn't be the same when a customer expects a service.
A customized van wrap with your brand's logo, graphics, and information changes everything. It tells your customers that the person in that van is legit, a real representative of your business.
This kind of trust makes for a great customer experience, positive reviews, and more business coming your way.
With Professional Fleet Vehicle Wraps
We can make your company's vehicles moving billboards.
When you wrap your fleet with professional, branded vinyl wraps, you're not just doing some brand establishment but boosting your visibility. These wraps turn your fleet into attention-grabbing mobile ads that go everywhere your team goes.
As your vehicles cruise around town, they're like rolling billboards, telling everyone that your business is here and ready to serve. It's an awesome way to boost your business's visibility and get the word out.

Protective Work Van Wraps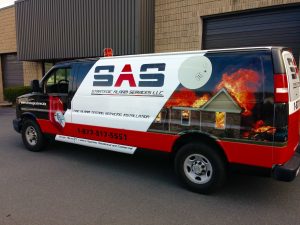 If you rely on vans and other vehicles for your business's regular operations, you need to step up your business car game. For such an essential part of getting the job done, investing in them is also important. So, it's crucial to make them last as long as possible.
Our custom Folsom van wraps do more than make your business look sharp; they also protect your work vehicles. These heavy-duty vinyl wraps shield your vehicle's paint from dirt, dings, rust, and weather. And if your wrap gets any damage, no worries – call us, and we'll patch it up so your vehicles keep looking top-notch.

Full-Service Van Wrap Manufacturer
Universal Signs is your one-stop shop for van wraps. We take care of everything, starting from our first conversation, maybe on the phone or here in our facilities, through installation, maintenance, and even removal and repairs if needed.
During our free consultation, we'll chat about what you want to achieve with our Folsom van wraps. We'll suggest designs and materials that fit your vision. And once we're on the same page, we'll create a draft design, so you can see how your wrap will look. After you give the green light for manufacturing, we'll get to work making all the parts for your custom wrap right here at our shop. Then, we'll set up an appointment for installation.
Once it's on, you're good to go! But remember, if you ever need repairs, want to replace or remove the wrap, or update your business info, we're here for you in the future, too.

Free Van Wrap Consultation


Our Folsom, CA sign company is eager to assist you with all your signage and wrapping needs. We have your back, even if you need professional advice or product recommendations.
Enjoy our free consultation as soon as possible!
Call Universal Signs today at (916) 287-8834 for your Free Consultation with a Folsom Van Wrap specialist!